There are many untrue misconceptions about wigs, especially from those who have never tried them before. Let's talk about 6 common wig misconceptions and dispel any misunderstandings about wig wearing.


Wigs are only for people with hair loss.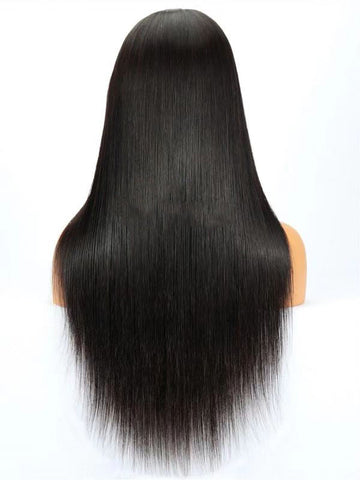 Wigs were originally designed to cover up hair loss, but anyone can wear one – you don't have to have hair loss to rock a wig! People who don't have hair loss will also buy wigs to wear to make their hair appear more voluminous or if they want to change their hairstyle. Wigs are a popular choice for people who want to change their hairstyle without damaging their real hair. Wigs provide more opportunities to explore different hairstyles and find your favorites.

Wigs are bad for your natural hair.

There are a lot of rumors that wigs are bad for natural hair growth. This isn't true! HD lace wigs, to some extent, are like silk scarves that wrap your hair to prevent breakage and other damage. Also, wigs do not harm your natural hair, damage your natural hair, or prevent it from growing.

Wig-wearing steps are complicated.

Many wig beginners are discouraged by the assumed complicated wearing process. It is not as complicated and as difficult as you might think! There are plenty of tutorial videos on social media to learn since they usually display simple and efficient steps on how to wear a wig. Of course, glueless wigs are worth being considered as well which are very friendly beginner-friendly. There is no complicated process involved and it only takes three steps to complete the wig wearing. Put on your wig, adjust, and then cut the lace along the hairline to your liking. No need to worry that it will fall off since our special piano key elastic band and combs will be added for a stable and snug fit.

Wigs are unbreathable and hot.

The quality of the wig matters. The higher quality, the more comfortable it will be. That requires an ultra-thin lace material to keep it cool and breathable. We recommend that you choose a full hand-tied monofilament lace wig or a half-mechanical made wig since such wigs will not prevent your scalp from breathing, that is why they are suitable for long-term wear. Of course, they also provide a realistic and natural look.

We find that one of the biggest misconceptions people have is that they fear wigs will look fake. We understand it and will share with you how to pick a natural-looking wig. First, the wig with 100% human hair will offer the most realistic look. Plus, that would be the preferred choice for the wigs that come with clean bleached knots and a transitional plucked hairline. We are always evolving our wigs' technological innovations to make the wig wearing experience a more natural one.
Wigs cannot be styled.
Wrong again! Synthetic wigs cannot be styled while human hair wigs can be changed and styled just like your natural hair. If you prefer to have versatility with styling, pick up a human hair wig for endless possibilities. Besides, it is important to take your wig to a professional stylist who is experienced in handling human hair wigs for more complicated styles, cutting, or coloring.

Now, it is your turn to activate your wig journey. Shop our best sellers.