F.A.Q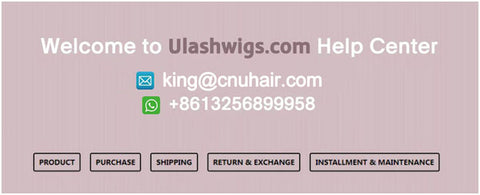 PRODUCT
1、What kind of hair does your wig use?
Our wigs are made of 100% virgin human hair with quality.
2、What's the difference of 13x6 Lace, 13x4.5 Lace, 5x5 Closure, U Part and Full Lace Wigs?
The numbers express different area sizes of lace part of the wig. Ulashwig offers you 13×6 hd lace wigs, 13×4.5 hd lace wigs, 13×4 hd lace wigs,13×4 transparent lace wigs,13×4 light brown lace wigs,lace closure wigs.
3、How do I pick the right cap size?
See below for an easy guide to measuring successfully!
Note: Before measuring, please make sure your natural hair is as flat as possible. Then, compare your measurements with the size chart, and pick the big one if any of your measurements are in between.
Measure Steps
Circumference: Measure around the head. Wrap a tape measure around the edge along the hairline from the forehead to the nape.
Front to nape: Measure from the hairline at the center of forehead directly from the top of head to the center of hairline at the nape.
Ear to ear forehead: Measure the length from ear to ear at the same point along the hairline.
Ear to ear over top: Measure from the hairline above the ear to another ear across the top of the head.
Temple to temple around back: Measure the length from temple to temple across the back of head.
Nape of neck: Measure the length of hairline across the nape of neck.
4、What is fake scalp? How to pick right color?
Fake Scalp also known as a invisi cap is a unique fibric comes with 3 different color options. It's been pre-sewed under the frontal lace part, so that you don't need to wear a wig cap before install the wig. Fake scalp will blend with the skin without the aid of makeup, which ensures no clash with your skin tone while giving the illusion of a "scalp" appearance. make it look invisible
Fake scalp wig comes with three different lace colors that can match your skin tone, enhancing the wig's invisibility feature.
Cappuccino fake scalp color fits most skin tones.
Mocha fake scalp is darker than cappuccino's, which fits darker brown skin tones.
Honey fake scalp color fits beige skin tones
Do the right color selection Based on what suits your skin tone
5、What a wig in different length and style will look like? What is density?
The wig length should be measured the wig hairs beginning at the roots. Curly or wavy wig hair should be pulled straight when measured from root to end. To find your ideal wig length by referring to our wig length chart.
Density refers to how thin or thick your hair is. The standard and common choice is 150% with medium density. If you want thicker or thinner, you can choose custom made.
When each hair strand is hand tied to the lace area of lace wig, there is a black knot after securing. Bleaching technique helps to make the knots invisible. By this, the knot will be a lighter and the whole lace wig will look more natural similar as its own natural hair. The lace wig with bleached knots will also look natural.so that achive the free parting look.all the products in our web has bleached knots before shipment
 7、What is Yaki Texture and what is the difference between Yaki and Silky?
Yaki texture is process we do to your wig that adds a micro kink to the hair strands to mimic Africa-American people relaxed hair.
The silky straight hair texture is the natural state of the Indian Hair as it comes from the donor. It is look like the wig of white people. If you are Caucasian, we recommend you choose silky texture.
8、What is the difference between HD swiss lace & Swiss lace & French lace& Korean Lace?
There are different types and quality of wig lace. It determines how natural your hairline and scalp area look.
French lace is too dark and thick for wigs for Black women, so it's always going to be noticeable
the regular Swiss lace, which is not as dark and blends a lot better and melts into the skin.  But it is still noticeably along the hairline.  And you may need to use your foundation or other additional methods to get it to blend properly.
Swiss lace is finer and softer than French lace. Swiss lace is with better and natural looking to match the skin. French lace is a bit thicker and more durable for use.
 Korean lace is strength and ability to hold much denser and longer hair.    it's still too detectable and gives your hairline that unnatural look, and you'll need certain skills to be able to mask it.
HD Swiss lace is soft, flexible, and provides the most natural appearance of all the lace types.  Naturally, it'll cost a bit more, but it's definitely worth it if you want your wig to look just right.
9、What color lace is best suited to my skin tone?
 You want to match the lace color with your scalp complexion not your skin tone. This is because when you part the unit, you want it to appear as your natural scalp color. So to check your scalp color part your hair and look at the color of your scalp to determine your lace color.
Follow These Guidelines - Lace Choice Color:
Transparent: For White, Off White or Cream scalp tones.
Ie. Liv Tyler, Jessica Simpson, Jenna Jameson, Charlize Theron etc.
Brown: For Light Beige or Beige scalp tones.
Ie: Ciara, Eva Mendez, Beyonce
Light Brown: For Light Brown scalp tones.
Ie. Tyra Banks, Eva Longoria, Alica Keys, Rihanna
Dark Brown: For Dark Brown scalp tones.
Ie. Naomi Campbell, Serena Williams, Kelly Rowland
IE.Liv Tyler、Jessica Simpson、Jenna Jameson、Charlize Theron 等。
10、How to tell difference between human hair and synthetic hair?
   All of our products are made of 100% human hair
   If you do want to double check the material after receive the unit.Here are 3 simple methods to help you tell the difference between human hair and synthetic fiber wig
You can cut a single short hair and burn it.Human hair smells the same as your own hair when burning because it has protein inside.While synthetic fiber doesn't smell the same way.
Put the wig into water,Human hair is soft and flexible, While synthetic fiber is stiff
You can take the wig to any professional in salon.He will tell you its human hair without doubt.
11、How to tell difference between human hair and human mixed animal hair?
 100% human hair is thin、soft 、natral and flexible,snug for skin and melt into the hair;While human mixed animal hair is thick、stiff  and Fluff , Desn't melt into human hair well.  Especially after water more fluffy.All of our products are made of 100% human hair
 The lace wig is made of 100% human hair.  If you are experience in coloring this type of hair, you can do styling on the hair as you wish on your natural hair.  We strongly recommend not to dye the lace wig since most of our products have been changed int the manufacturing , especially wavy, curly or yaki hairs.  During coloring, the hair may be over processed or damaged.  We are not responsible for any damaged caused on the unit during dying. 
But our suggestion is to come to us for dyeing, because we can dye from raw materials.Also You can take the wig to any professional in salon.
13、Why should I choose Ulashwigs?
Ulashwigs offers 100% human hair wigs with great volume so that the hair is super soft and shiny, and could be styled and colored as you want. More than that, Ulashwigs is committed to making your wearing experience effortless, all our wigs come with the pre-made fake scalp, pre-plucked hairline, and clean knots; all you need to do is cut lace, put it on and go!
PURCHASE
1、What payment methods do you accept?
Two easy ways to pay: Credit card、 Visa card、Debit card And PayPal,We also offer installment payments through Paypal
If you have credit card, visa card or debit card, you can create a paypal account with it. It's easy and we recommend it as the safest and most convenient payment method. More details check at www.paypal.com
Be sure the shipping address is the same as the billing address on your paypal.As we can only ship to the billing address on paypal.
Ulashwig paypal account : payment@cnuhair.com
2、Can I change the shipping address when I ordered?
PayPal users: sorry we don't accept any change for shipping address.
 we will ship your order to your initial shipping address; if you cannot receive it we are not responsible for it.
3、Can I change or cancel my order after purchasing?
Absolutely, your order can be changed or canceled for free within 12 hours after your purchase. Orders that have already been shipped are not allowed to change or cancel.
SHIPPING
1、What are your shipping rates?
Free Shipping for all orders
2、When will my order be processed?
We will process your order immediately after you placed.  For most wigs, we usually ship it out within 48 hours,and part of custom-made wigs may need extra time,about 3- 7 business days to be prepared.
 3、How long can I get my order?
It normally takes 3-5 business days to reach you.
4、What shipping options do you offer?
We ship it by DHL & FedEx.
5、Can you ship to me internationally? Do you ship to Po.Box?
We can ship worldwide except for Ascension Island, Brazil, China, Egypt, India, Russia, Tristan da Cunha, because of the high value taxes.
For FPO,PO.Box address,we can only shipped by post office,it will takes longer time,about 2 weeks.If you want to get the package earlier,please leave your physical address
6、How can I track my order?
We send tracking numbers by email within 24-48 hours after your order is shipped out. .(Please make sure you offer the correct email address)
RETURN & EXCHANGE
Tell me return information, please.
Our devote ourselves in providing you BEST quality wigs with Reasonable price and nice service. In order to offer you secure online shopping circumstance,we offer FREE returns and exchanges service
We are more than happy to accommodate exchanges of the wigs that have NOT been cut, tampered and altered. Since Human hair wigs are a hygienic product. We take matters of hygiene and public safety seriously and DO NOT ALLOW used items to be returned for the safety of all of our clients.
*Please be sure to contact us before you return or exchange it:king@cnuhair.com
INSTALLMENT & MAINTENANCE
1、How long can I expect the wig to last?
The life of your wig will depend on your use and care of it. If handled properly, it should last you 6 months to a year and even longer depending on your handling and use.
2、How to install my wig?
Just three steps to finish a natural wig install:
-Put on your wig.
-Adjust the elastic band.
-Cut the lace along the hairline to your liking.
3、The Methods of Washing wig
Wash Your wig first after receiving it ,Sweat、dirt and heat cause tangles, so please kindly wash your wig regularly
45℃purified water with shampoo soak for 10 minutes
Gently circulate the wig and Rubbing gently from top to bottom
Remove the water and gently rinse out the shampoo
45℃purified water with Conditioner soak for 5 minutes
Remove the water and gently rinse out the conditioner with the cold water until the water is clear
Gentle pressure dry with towels
Allow to wig dry by placing on a mannequin head,Avoid sun exposure
Now clean and ready to wear
Wash cycle after 6-8 use
4、Wig care for Daily
Spray the wig with a leave-in conditioner daily to help prevent tangles.
Using a soft-bristled brush or a wide-tooth comb, brush your wig two to three times a day to prevent tangles.
Do not brush your wig when it is wet.
Gently brush your wig with wide teeth, dividing it into different sections and gently combing each section until  reach your scalp.
When combing wig, start from the bottom of the wig slowly and gently comb to the top of the head. When combing the wig, split the wig into several sections, comb from the bottom up, be sure to be light and patient.
Curly wigs should be combed by hand instead of comb
Heat causes wig to tangle and split,Avoid heat, such as curling irons or hair dryers.If  using hair dryer, be sure to keep the temperature low and finish in a short time
Avoid alcohol and do not use oily or greasy products ,it cause tangling
When wig tangles, do not pull or comb , steam it with steam first or available hot towel, then comb it slowly and carefully.
Wear a swimming cap when swimming;Tie your wig up when sleeping or exercising to prevent tangles
You can perming dyeing, but please remember do not do this to frequent and remember to use the nutrition water
If not wearing wig for a period of time, preferably not exposed to the air,  received in a plastic bag.